Privacy Policy
1. Definitions
Personal Data or any mention of data related to you, this refers to data that is used to identify you as an individual or indirectly linking back to you.
Us, We or SGameHub, refers to the company SGameHub providing service on this platform.
2. What data we collect
2.1 - Transaction and payment data
In order to make a purchase on SGameHub, you are required to provide payment data to complete transaction. This may include name, address, credit card info, and thus receiving data from your payment service provider.
2.2 - Data you explictly submit
Any data that you fill in which includes the support ticket form, data which includes e-mail, name and address might be collected in order to help the customer fulfill any request for refunds or warranty.
3. How long this information is stored
We will only keep information sensitive to the customer for as long as we need it. Once we have no other use for it, data will be sent for deletion immediately.
In such cases but not all do these apply:
Successful transcation and payment
Resolved support ticket case
In the case of customer request of immediate and untimely deletion of data, we will comply.
Any service that requires the use of data of the customer will also be halted.
This also includes transaction and payment in which the customer will be entitled to a refund.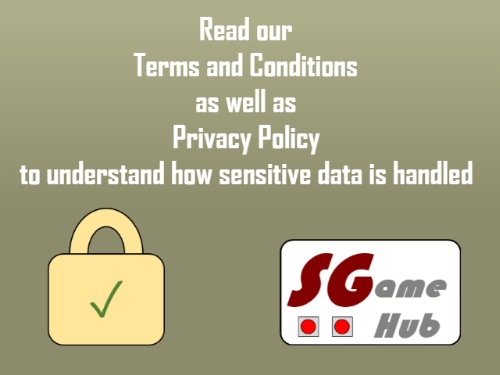 Terms and Conditions
By using SGameHub you thereby agree to:
Be responsible for the usage of your private data and that we will be unable to help you if any unauthorised personnel virtually or physically obtains your data with malicious intent while using the SGameHub service.
If any displeasure or dislike for the product received is not in control of SGameHub, we will not be able to assist you.
Allow SGameHub to collect only required personal data in order to complete payment and transcations.
In event of any catosraphic event by god or likewise, SGameHub service may not be available during such time. As such, we will be unable to serve you.
If your product is stolen or damaged after 14 days of delivery and unable to claim warranty from the manufacturer, we will not be able to assist you.
Usage of any copyrighted material
All materials used in SGameHub belongs to the appropriate copyright holders in Singapore and other countries:
Respective developers of games being sold on the SGameHub platform
Respective manufacturer of devices being sold on the SGameHub platform
Respective social media platforms
SGameHub